Majyk Equipe Colour Elite XC Boot - Front - Orange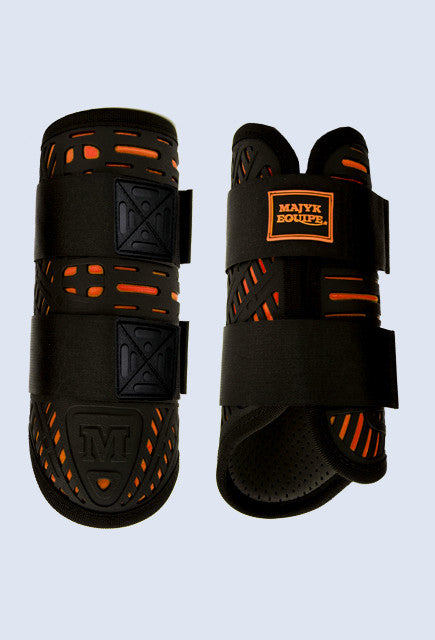 All New Bonded TPU Outer Shell

Lightweight Construction

Four-way Flexion Strike Guard

ARTi-LAGE Foam inside Strike Guard

Perforated Bio Inner Foam​


New 'Forever Clean' Coating Resists Dirt and Water

USA Velcro Brand Straps

Double Stitched Finishes and Binding
XC Color Elite front boots have an ARTi-LAGE™ barrier in the front and a Flexible TPU shield in the back of the boot protecting the front of the cannon bone from bruising and the back of the leg from potential overreach. Our hind boots have a double barrier of ARTi-LAGE™and Flexible TPU shield in front of the boot, providing unsurpassed protection for the canon bone.
Our XC Color Elite boots were designed to:
Provide superior impact protection with a flexible TPU shield and layers of ARTi-LAGE™ foam

Be breathable and remain cool during lengthy, strenuous exercise

Stay in place (no turning)

Resist moisture penetration (water repellent)
The XC Color Elite boots were worn by Majyk team riders Boyd Martin, Phillip Dutton and Lauren Kieffer at the 2016 Olympics.
As a general rule of thumb:
Horse/Full size is designed to fit horses 15.1 hands to 16.3 hands
Large size is designed to fit horses 16.3 hands and above